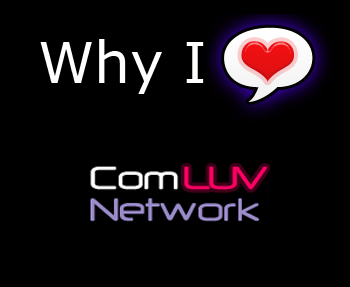 I have been blogging for quite a while now and I would like to share with you why I love ComLuv and how it has helped me in various ways.
ComLuv Provides More Exposure to My Links
I love to comment on ComLuv enabled blogs, heck I even have a special bookmark for ComLuv enabled sites and blogs. Occasionally and if not daily, I'll visit these sites and leave a Comment on their latest blog entry. Sometimes I try to be the first person to comment on these sites. The reason is simple, ComLuv enables me to advertise my links at those sites automatically. I don't have to engage in spammy activities like manually posting links in comment box to get my link there.
Who doesn't like free exposure like that? It is a plus when I become the earliest person to comment on that blogpost because if people are to read other people comments, the will read my comments first and will see my link too. What if thousands of others read that blogpost and its' comment section? I don't have to pay a single penny to get that kind of exposure for my link thanks to this brilliant plugin.
More Exposure Leads to More Traffic
True story. As a blogger, I administer where my traffic came and I wouldn't deny the fact that my commenting habit on ComLuv enabled sites had been very fruitful for me. Some might not agree with me, but let me teach you how.
If let's say an influential blogger writes about something hot at that time and that you are knowledgeable in that similar topic, then by all means write your own version as well. Here's the twist, don't plagiarize from any source and give something that the blogger didn't mention in his entry. I'm sure there is something. Then put a catchy title, or even better, you can post a reply-kind-of version of that blog post. Of course you can send trackbacks, but then again nowadays webmasters tend to list trackbacks at the bottom, after the comment section. So trackbacks are less effective now but with the CommentLuv plugin, your link will appear there where you commented.
Other readers who are engaged with the topic will read your comment and most likely will click on your link to read further. Yes, that is quality traffic. New readers come in and might be regular readers at your blog
Backlink From a PR6 Site & More Comments!
ComLuv.com is a PR6 site. ComLuv users have the chance to get a dofollow backlink from there by either being the commentator with the most comments or by writing a kick ass blog post and get lots of comments. Your choice. It is actually a beautiful harmony. You see, when you are not posting anything on that day, you just have to go around and leave comments here and there (of course on a CommentLuv enabled sites) and when you're writing something, you would be accustomed to write entries that could drive lots comments because of the perk.
I'm sure lots of people like me out there who has this mindset that more comments in my entry means it is good that people did not just spend their precious time reading but leaving a comment as well. Although the case is not always that, but then again having lots of comments is some sort of sign that the blog post is popular. By having the CommentLuv plugin installed, I got an increase of up to 20% of total comments per month. That is a lot and can be accountable for something, right?
People love doing something and get rewarded. With that in mind, they treat free advertising through the comment section as a reward for commenting, thus they become less reluctant and more welcome to leave a comment. As simple as that, no rocket science involved here.
***
There you go. ComLuv is just brilliant and I think every blogger should install CommentLuv plugin on their blogs. So what do you think? Would you install CommentLuv after reading this? What's your experience with ComLuv? Spill it out. Would be great to hear from you.
This post is part of our amazing
Blogging Contest
, plz add a comment and tweet it to support the author.