After having a brainstorming session with the editor-in-chief, Gail from Growmap, we decided that dofollow should be implimented here, with a twist….
Bots don't get it
My biggest concern with dofollow are the bots that trawl the internet looking for links within comments that have no rel="nofollow" attributes in them.
This is why I have modified the CommentLuv plugin to only allow dofollow on last blog posts links and then, only if the person making the comment is using a URL that has been registered with ComLuv!
Do you follow?
You will be able to tell if your link is going to be dofollow or not when you start to type your comment..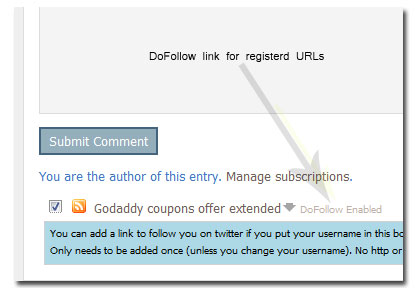 If you're commenting with a registered URL, you will see a 'DoFollow Enabled' message next to the drop down list of posts.
From now until you get banned!
Only comments qualifying for a DoFollow link made AFTER today will have the attribute removed and the best thing is, if someone abuses the system, I can ban them at source and from thenst onwards, thou mayest not post thine links!!
I think this is a great compromise, dofollow can be useful to attract comments but it's only useful if it can weed out the spammers. This way, a blog owner wont have to worry about dofollow bots any more because if they spot someone taking the piss then they can report them via the 'report this comment' link and I can rip out their heart remove their status from the db and they wont feel the luv on any CommentLuv enabled blog.
All you need is (com)Luv
The new feature is only available to commenters on this blog and on sub-blogs that activate it. The rest of the world will have to wait until it's finished it's trial here. What a great excuse to pay a fiver for your own CommentLuv / DoFollow enabled wordpress blog!
You can enable the feature by visiting the CommentLuv settings page and putting a tick in the checkbox..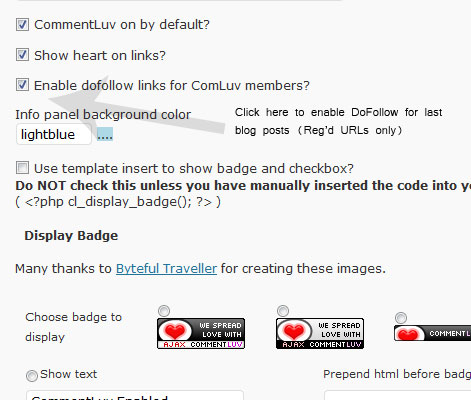 Give it a try!
Why not visit Gails' posts and leave a decent comment, if you're a registered member then your last blog post like will be dofollow. Awesome.