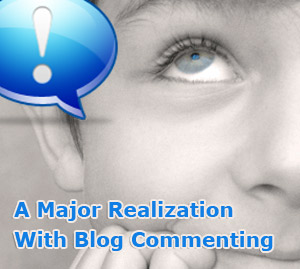 I have a confession to make guys. For my 3+ years of experience in blogging, I always neglect that comments are an integral part of my success in blogging. And by saying success, I mean it different ways. One is being able to reap the financial rewards of blogging, second is being able to enjoy writing and third is indulging on the intrinsic benefits of it such as getting into these circles, connecting with fellow bloggers.
Funny but for the recent years I made posts like "replying to every comment is retarded", "comments don't justify the blog's success" and other stuffs. I was not always the best proponent for the benefits of comments. It took me quite of long to really understand it.
My blog currently averages 15 to 20 comments per post and I always feel I'm fortunate to have a very engaging community in my blog that for everything that I post, they are usually willing to give their take. With that, I started realizing that blog comments is more than just dead nofollow links behind the name of the commenter.
Let's Dissect It
Let's study different reasons why bloggers comment on other blogs. Here's a small list why bloggers take time to comment on other people's blog.
Search benefits – Let's face it, even though most of the comment forms are wrapped with nofollow rulings, there's still a benefit for bloggers on making those comments on the search side, which is that it builds inbound links regardless of whether it's nofollow or not. Inbound links play a good role on your site's visibility to search engines, Google in particular.
Get some awareness to the blogosphere – The thing with commenting is that once you start doing it, more and more bloggers will start to notice you and comment on your blog as well. That's why blog commenting is usually the initial way of getting traffic. It's because it's the way to tell the blogosphere that "hey I started a new blog, welcome me!"
To show appreciation to bloggers who comment – This is evident with bloggers in the blogosphere. The "give and take" relationship is practiced very well here that when someone comments on our site, there's a good chance that we will check out that certain blogger and if their content is compelling enough, we will comment back.
To get traffic – this is mostly the point of blog commenting. That's why we comment on large blogs despite the fact that there would be 80ish others who will comment too. It's the fact that blog commenting can get some traffic although it will never be that massive.
As a hobby – Believe it or not there are people who do blog commenting on their spare time just because of the fact that they enjoy doing it. I am actually one of them. During late at night before I go to bed, I usually take half an hour to comment on my friends blog or favorite ones. It's great if you really have a natural penchant for commenting on other blogs because you are going to benefit from it without you really forcing it.
With things mentioned above, it's amazing how commenting can bring so many benefits to us, bloggers all in a very little way. I know these days most bloggers are completely ignoring commenting as a good blog marketing tactic and the reason behind that is there are other things that people think bring in more return for their effort.
I cannot argue about it since things like guest blogging and advertising can yield in better results but that should not be enough to neglect blog commenting as one of the better marketing tactic.
Secret Sauce – Best Benefit
Ok I'm sorry if I used this term w/c is mostly just used in sales pages full of hype. There's really no secret sauce in commenting, not even in everything and I know most of the successful bloggers will tell you the same thing. But the biggest benefit of blog commenting that is overlooked a lot is…
it gets you started in building those relationship w/other bloggers.
Nothing fancy isn't it? I'm sure by now you know it already. "Melvin, you are regurgitating it, we already are aware with it". Surprisingly a lot really don't act as they understand it. If it's about building relationships, then why is it that so many bloggers are using generic lines when commenting? Why is it that they don't add value most of the times? Why is it that they are more concerned on commenting on sites that have dofollow enabled?
Enough rant. Now I want to give you several key examples here why commenting starts it all out for me. Here's a not so huge list taken personally from my own experiences:
I started commenting on Carl Ocab's blog two years back and now we're friends (and he's very generous to me believe me)
A series of good comments on Mr.Chow's blog enabled me to guest post for him for more than 5 times.
A single comment on Tyler Cruz blog helped me get aware of his affiliate marketing contests where I won a couple times
A simple comment on Shoemoney's blog helped me get a Shoemoney shirt.
Simple yet informative comments on DailyBlogTips helped me have Daniel and his community retweet my articles and also help me decide on things
Valuable comments to blogs like Blogussion, FamousBloggers, QuickSprout, Shoutmeloud, DeanHunt, SmartBloggerz and WebTrafficRoi made me qualify myself for them to sponsor my contest.
and a thousand of other comments on small blogs made me gain a lot of new friends that I ocassionally meet on local events and I really enjoy being with them (intrinsic benefits) (by far, the best)
That and many more were possible because of a simple participation on their blog through blog commenting.
Now do you get what I'm trying to say? I know these things don't happen overnight nor in a month or so, it happens over time but the takeaway here is that commenting on blogs sparks that initial communication between you and other bloggers which leads to superb relationships later on. By commenting on blogs, its really like saying "hey I'm in to be your friend and I'm genuine. For me this is the best benefit of commenting genuinely on blogs. It starts with a comment and it ends on (complete the line).
It's amazing but as days go by I hear more and more stories on how a simple comment has managed to wonderful things. For instance here in Philippines, there was one blogger in which through a simple comment, he was able to get donations and relief goods for his small town which was wrecked by a catastrophe.
Isn't it amazing? By doing a simple comment, who would realize we're starting to open those channels full of opportunities for us? Now I've shared my story, what's yours?
This post is part of our amazing Blogging Contest, plz add a comment and tweet it to support the author.