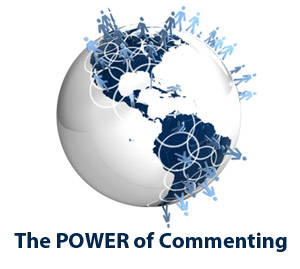 When I first started to comment on blogs my main purpose was to become "known".
Known as someone who had common sense and knew what they were talking about.
My purpose was to establish a reputation.
Need an opinion, just ask, and I will share mine.
However, after commenting for a short period of time something mysteriously happened.
I started to get to know the people behind their blogs, and I liked them.
That is what happens when you hang out with like minded people.
I realize that for many, posting comments is their search for the holy grail, the coveted backlink.
And I admit, I too wanted that backlink.
But not at the expense of automating everything to the point of being impersonal.
I want to get to know these people, have real conversations with them, and share ideas.
For example I know Cheryl is a passionate artist.
I know Marcus has the same dreams I do.
I know Oliver wants to retire to Guernsey.
And for so many others they do what they do because of freedom and family.
The blogs I read and comment on are written by passionate people who dream the dream I dream.
As you build these types of friendships online you will become "known" to them.
You will share ideas and support each other so that you become "known" to a greater circle of friends.
And then one day you wake up and suddenly you are "known" as someone worth listening to.
That is the power of "commenting".
This post is part of our amazing
Blogging Contest
, plz add a comment and tweet it to support the author.