In my previous post about How CommentLuv Works I mentioned the new default links feature that Andy added to CommentLuv. Before I explain how to use them I would like to share why they are so important.
Building incoming links IS important to ALL sites from blogs to ecommerce stores to information sites and businesses of all kinds – including YOURS!
Default links are perfect for featuring your most important information when commenting and to build backlinks (also called incoming links) to your site that will bring new visitors to you from search engines.
The best backlinks are those that link to the search phrase that best describes what will be found on the page where the link goes.
The words that you link are called anchor text.
In the previous sentence the phrase "anchor text" is the anchor text. In the link previous to that one "build backlinks" is the anchor text.
When you want to find something online I bet you search for it – so if you want your site to be found by more visitors you need to decide on a short (two to four word) phrase that describes what you have to offer.
Select the words you believe most people would use to search for what you offer.
I explain how to research keywords and provide links to free tools and a process for finding your best keyword phrases in my post about building traffic.
Once you know what your target phrases are you want to create pages or posts that are specifically about that phrase.
I explain exactly how to use your phrase when writing in my post about selecting and using keywords. Before you add default links you need two things:
The keyword phrases you wish to use
The page or post where you want to send visitors who are interested in that phrase
Every blogger, freelancer or business should create landing pages for each of their most important keyword phrases. Each landing page should clearly define what you have to offer.
Now we are ready to put the power of the CommentLuv default links to work bringing you new visitors. Thanks to Andy they are really easy to create.
Simply point at the Member tab and the default links option drops down to take you to the CommentLuv default links page (or click on that link).
The screen capture below shows you how to fill in your anchor text and link.
You need to be logged in for this to work.
You can only add pages on the domain that you have registered with CommentLuv. All your registered domains should be selectable in the dropdown.
Enter your keyword phrase in the anchor text field.
Enter only the page or post URL (the part after your base domain) in the link URL field.
In this example I have chosen the phrase Local Search Directory Listing and want to have it linked to the page found at http://GrowMap.com/local-search-directories/ by selecting http://GrowMap.com in the dropdown and typing or pasting local-search-directories/ in the box.
When you click submit you will see this confirmation page:
It would be a good idea to actually click on your link BEFORE you click confirm to make sure it works. Also make sure you entered your keyword phrase correctly.
Notice that I originally had Local Search Directory Listing and realized it should be Local Search Directory Listings (plural) so I changed it before I clicked confirm.
After you confirm your new default link it will be visible when you return to the default links page as you can see at the bottom of the image below under Your Default Links: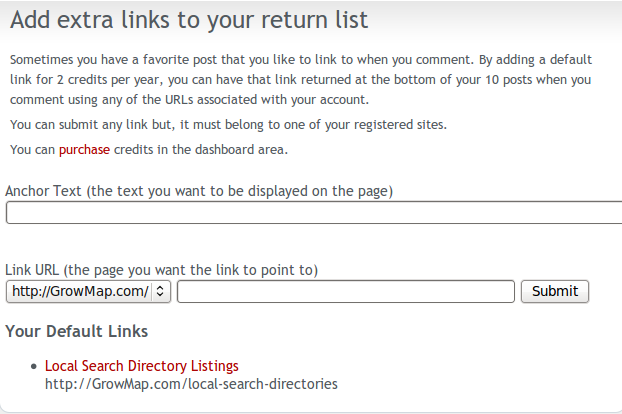 Now that I have that post entered as a default link it will appear as one of my CommentLuv post choices as you can see below:
Your default links appear below your last ten posts. If you have read this far I hope you will stay with me. There are at least three reasons selecting your own anchor text and landing page are important to you:
You can save time by using that link instead of typing links in manually. That post is one I often recommend in comment replies so now I can just click the link instead of typing in <a href= "http://GrowMap.com/local-search-directories">Local Search Directories</a> [This is the correct html format to manually add links in blog comments and on Web sites except for the extra space between href= and "http:// that I included so you could see how links are manually created and how much typing (or finding, copying and pasting) is required. Forums usually use a different format.]
Anyone reading your comments including the bloggers you regularly interact with will instantly know what is most important to you. The more we know about each other the more we can recommend and link to each other.
If you consistently build links using your default link anchor text that specific post or page will start moving up in the search engines. This is the number one way to get your site onto the first page of the search engine results.
Since most Internet users only look at the first page, only the Web sites listed on that first page get visitors.
How well will this work for you? Here is an example. Although I just added that phrase as a default link I have been leaving comments with the link added manually for some time.
If you search for the phrase "Local Search Directory Listings" in quotes my post is first at Google as shown in the screen capture below. If you click on that image you can see the current search results for that search.
[If you do click on the image please do me a favor and click on my link too because Google also uses impressions and clicks to decide who deserves to be on the first page. If many search and none click my post may drop down because Google's algorithm will decide it is not relevant.  Remember that and do not regularly search for your own best keywords or you will hurt your organic listings and end up spending more on any Google AdWords ads you buy!]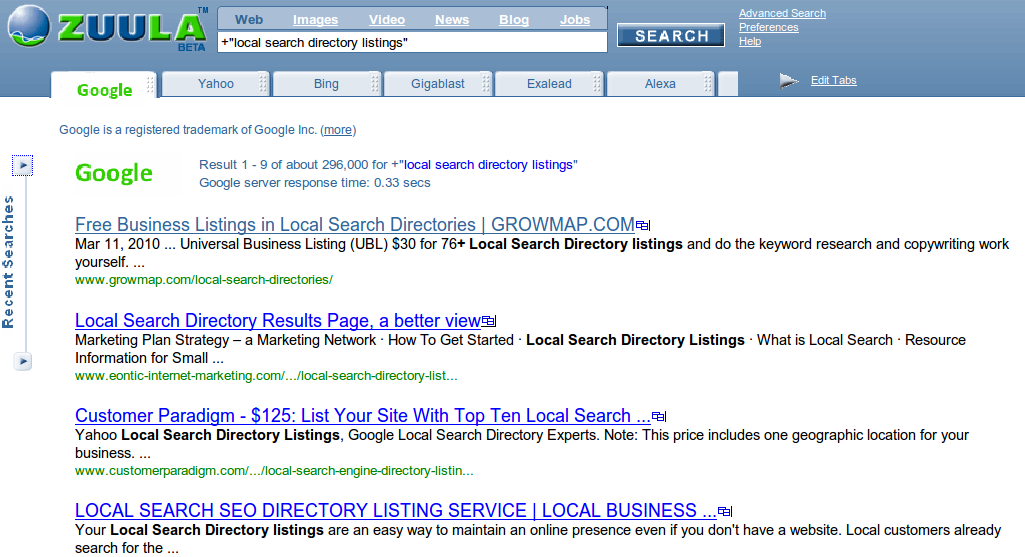 How long it will take to get onto the first page of any search engine depends on how competitive your keyword phrase is and the algorithm of each engine.
Even if you never make it to that coveted first position or even the first page, your CommentLuv default links allow you to share what is most important to you with the owner and readers of all the CommentLuv blogs you frequent.