Did you know you can:

While we still hope you will register and install our plugin in your blog – because both have additional benefits – neither is required to start benefiting from using CommentLuv when commenting in blogs.
In this post I will share screen captures of what you will see when leaving comments in CommentLuv enabled blogs so you will know what to expect. Note that blogs can vary in appearance and in what they call these fields but they should be similar enough for you to figure it out.
CommentLuv uses the URL you enter when commenting to pull your latest posts:

Originally, you had to ensure you always typed your URL in exactly the same; however, Andy has already improved CommentLuv to recognize your Web site URL regardless of whether the letters are in upper or lower case, with or without the trailing forward slash (/) and with or without the www.
You DO have to use the URL you registered and NOT a different specific page or post on that site.
(Read on for how you can change that AFTER you select the post you want CommentLuv to feature.)
If you enter the wrong URL, instead of your last ten posts you will see only the last published post found in the CommentLuv system.
If you click the red drop-down button you will see the message pictured below: "If you register your site for free at ComLuv.com you can choose from up to 10 of your last posts here."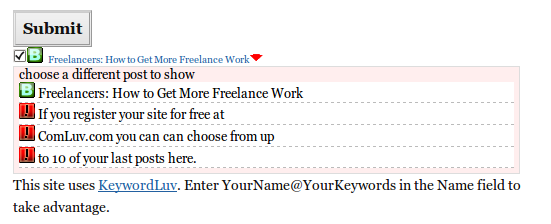 That message is exactly the same as what unregistered blogs see. If your blog is NOT registered click the Register/Edit Your Blog URL link you should see at the top of every page of the official ComLuv.com site.
[IMPORTANT: The official CommentLuv site is now ComLuv.com not CommentLuv.com.]
If you see this message and your blog IS registered, correct what you entered in the Website URL field and click into the body of the comment field so that CommentLuv will again try to pull your last ten posts.
CommentLuv looks for your posts when you click into the main comment box (where you type your actual comment).
You CAN change the Website URL linked from the regular Website URL field AFTER you have selected the post you want to feature in CommentLuv. You DO have to remember not to click into the body of the comment again.
If you forget, put your registered URL back in the Website URL field and try again.  For information about why you would want to do that and more details on how that works, read my comprehensive post The Benefits of Using KeywordLuv.
If the URL you entered is invalid or not a blog instead of just not the exact URL the CommentLuv system expects you will see the message: "nothing No last blog posts to return" as shown in the image below.  If your site has a blog make sure you entered the URL correctly.

If you click the red drop-down arrow when you see that message you will see: "Comluv had an error trying to fetch your feed" and some additional information on what may have caused the problem.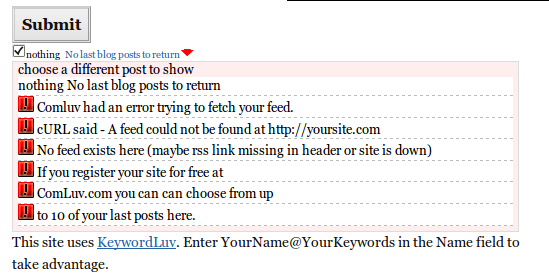 If you can't figure it out on your own, open a Support Ticket by using the Support Tab and reading how on that page. A future post will explain step-by-step how to best get support for any  CommentLuv issues you may encounter.
In the meantime anyone who needs assistance opening a support ticket can ask me at Twitter, here or in my GrowMap blog.
CommentLuv Works with non-blogs and Social Networking Sites too!

If you  register the Website URL to a static site with CommentLuv, your default links can be anything on that domain.
If someone doesn't have a site, they can register their Twitter url or other social profile page and set the feed url to that social site's feed for their account so they aren't left out when they comment on commentluv blogs.
Alternatively, static sites based on WordPress CAN benefit from using CommentLuv even if they are not registered.  Here is an example of what you see if your site is on WordPress but you have not published any posts: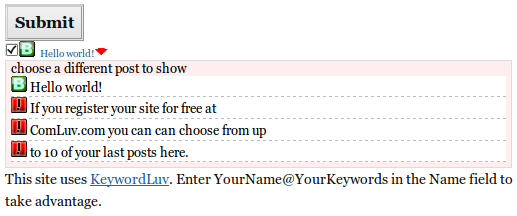 Hello World! is the title of the default post in a new WordPress install. If you don't intend to blog you can log into your site and edit that post. I recommend you use the title that describes your site best and create a post specifically for visitors coming to you from comments you leave in CommentLuv blogs.
Be sure to edit the Permalink so that it contains your new post title and not Hello World! [Note: if you have an existing post using that URL that you do not want to change or that has incoming links changing the permalink WILL affect this.]
After you publish or update your new post there can be a delay before CommentLuv will pick it up. During that time you will see a message similar to the one shown below that says "Response cached until"…"(Refreshes in xx.xx Hours)":

Simply wait until CommentLuv picks up your new post and from then on you can feature that post in all your CommentLuv comments. Once your new post has been picked up by the CommentLuv system it will appear in the dropdown as you can see in this image: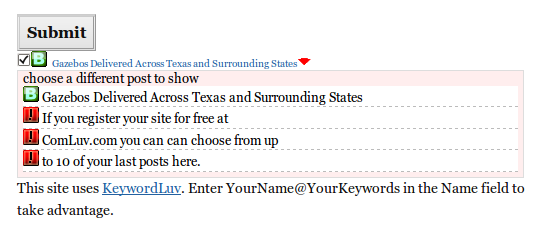 You don't have to be limited to just that one post or page though. If you don't want to wait you could go ahead and Register Your Blog with CommentLuv and always select that post from the drop-down choices.
CommentLuv bloggers and CommentLuv users can now select any post or page on their registered URL they wish to feature in place of their last or one of their last ten posts!
Andy has added a way that you can feature specific pages on any site that he calls Default Links. I will write about those in depth in a future post, but why wait? Here is the information on how to add CommentLuv default links.