Every girl wants to look the best she can, especially in the summer time – the time for short skirts, summer dresses, and, of course, bikinis. Making your body look great for the summer may take some time and effort, so the perfect time to start doing something is right now! Follow these simple tips, and by summer time, you can have a perfect beach body that everyone wants.
1. Every girl's problem – Cellulite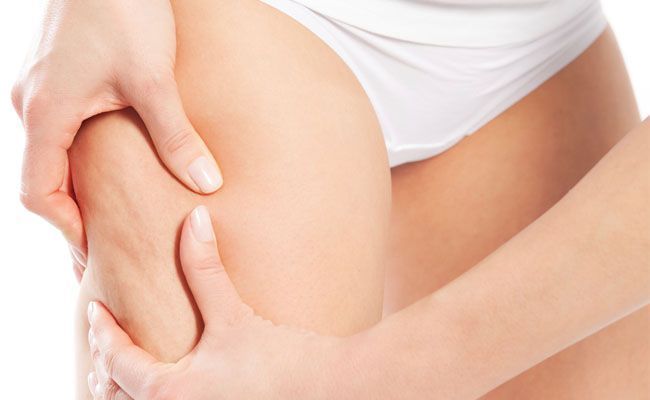 There is nothing worse than seeing that orange-peel-like skin on your thighs and belly – it just makes you not want to wear a swimsuit ever again. If you are one of many women with this problem, you probably don't feel comfortable wearing bikinis, or even shorts. Cellulite is essentially fat stored under your skin which then develops small dimples in certain areas. There is no magical solution to this problem – if you want to be cellulite free, you'll have to work for it.
The best way for getting rid of the cellulite is combining these three things – exercise, diet and a massage using anti-cellulite oil. It's more than enough to have a 30 minute workout a day (10-15 min. of cardio and the rest focusing on the problematic area). For food intake, make sure to avoid processed foods like breads and pastas, eat a lot of vegetables, and, of course, don't forget to stay hydrated. On top of that, you can go to the store and get some olive or seaweed oil and massage the problematic area yourself. You will see a positive change in no time.
2. Exercise – focus on thighs and tummy
If you want to get in shape for the summer, the best (and only) way is simple – regular exercise. Combine cardio with strength workouts, and you'll get a sexy body quickly enough. There are many different workout programs, but not all of them will give you the desired results. Make sure you pay more attention to your thighs, glutes and stomach. There is nothing more attractive than a flat belly and round booty in a bikini.
You can try the "bikini body workout", recommended by fitness expert Kayla Itsines. Even if you don't have time for regular workouts, you can use the next few tricks that will help you get in shape. You can take the stairs (forget the elevator), park a few blocks away from the store and walk to work, or even better, forget your car and ride a bike to work.
3. The perfect diet for the prefect body
We all know that in order to lose those extra pounds, exercise is important, but it is just not enough. The second most important thing you must pay attention to when trying to get that bikini body is your diet. Like exercise programs, there are also so many kinds of diets, and you just don't know which one to go with. The truth is, you don't need some special diet program in order to lose weight or reduce cellulite – you just need to take care of your food and drink intake. First off, drink a lot of water. It is important to stay hydrated. Avoid sodas completely, or at least switch to a diet version, and reduce alcohol, since they have a lot of sugar and can cause dehydration. Focus on upping your protein and micronutrient intake by eating fresh fruits, vegetables and non-processed food. Foods high in protein and fiber are especially effective in reducing body fat because they require more energy to digest and utilize. High-quality food high in protein and fiber is the way to go.
4. Flawless skin
Now that your body is ready for the beach, you want to make sure that your skin is also ready for bikini and summer clothes. Heat causes sweating, which can increase allergies and cause acne to develop on your skin. Don't worry, this can be easily stopped by using few skin cleaning products, face masks and peeling. You want your skin toned and firm, especially during the summer.
One of the best ways to achieve this goal is dry brushing – not only will it remove dead skin and help showcase your natural skin color, but this can also be very helpful with reducing cellulite. And the most important piece of advice – never forget to use sunscreen! Sun rays are very harmful – they will make your skin age faster and, of course, they can cause serious illnesses. Everyone looks better with tanned skin, but health is more important, so always use some skin products during the summer months.
It's still winter time, which means that there is plenty of time to get ready for swimsuit season, but for the best results, start now! Using these simple tips and tricks will help you get your body ready for the summer, so that you can feel comfortable and sexy in a bikini and other summer wear.