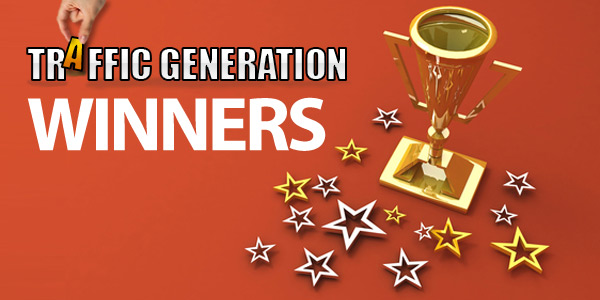 Finally, and after a very long month of hard work, this is the moment that we are all waiting for, it's time to pronounce the winners of our Traffic Generation blogging contest, so congratulations for those who took action and worked really hard to win!
We would like to take this chance and thank our contest sponsors for being so kind to us, and a big thank to our Judges Team for being part of this event, they've made our day!
But before we pronounce the winners and their prizes, I want to explain to you in short how our algorithm works
and FYI, I am shocked of the results! It's just not expectable. No one can game the system, the only way to win was by submitting good entry and focus your efforts in the right place!
The Winners!
The First place

Brankica Underwood, for 50 Traffic Sources You Should Milk Like Crazy
Second place
Ariff Shah, for How I Got 50k Pageviews For A Single Post In A Day
Third Place
Brian Belfitt, for How to Drive Consistent But Free Traffic To Your Blog
And, yes we have 15 winners:
4 – Mavis Nong, for How to Beat the Changes to Organic Traffic Generation Rules
5- Faissal Haithami, for Facebook Advertising Killed Google Adwords
6- Stacy Claflin, for How to Generate Traffic Without Spending a Dime
7- James Johnston, for Use Facebook to Drive Traffic To Your Site
8- Khalid Hosein, for Zen and the Art of Web Traffic
9- Jane Sheeba, for Traffic Generation: Using The Old And Boring Hooks Correctly
10- Lisa, for How Bing, Softball And Yahoo Got Me Blog Traffic
11- Cheryl Ragsdale, for Vibrant Ways To Generate Traffic And Build Relationships
12- Jeevan Jacob, for How to Tweet Your Traffic
13- Varda Epstein, for Charming an Overlooked Readership
14- Cosmin Stefan, for How to Really Get Targeted Traffic to Your Site
15- Michele Welch, for The 3 Star Rating Traffic Generation Report
Congratulations to the winners, and many thanks for everyone who participated in our contest.
This is how the algorithm works:
The fist thing I want to make sure of is we all understand that Judges are the ones who actually decide the winners, we -as organizers- are not part of this! We consider the average of points given to each entry is the winning pass based on Judges opinion, so it's absolutely not a random process, Judges build their opinion based on the quality of entries.
The second step is to give each winner his/her place, points will be given based on valuable comments and interaction, how many tweets your post got, and as a bonus there is 10 points for each review of the contest sponsors. After that we give the levels based on the points for each our 15 winners.
I just thought to give you a hint about how we've got the results. If you would like to see the table of results and points, click here for PDF.
The Traffic Generation E-book
As we planned and stated before, we will include all the winning articles in one e-book, this will allow us to create a great source for everybody to lean from. The e-book will be hosted and available for download on the organizers blogs as soon as we are done with it, hopefully at the end of May 2011.
Let's deliver the prizes!
If your name is among the winners, then please email your PayPal email account so we can send your prize. If you don't have my email address, then please visit FamousBloggers.net contact page.
I hope you enjoy spending your prize, share with us on what you will spend it