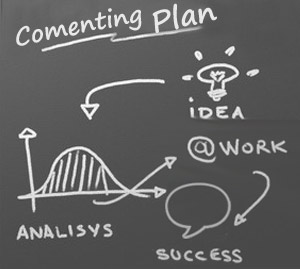 Sometimes, a blog can feel a bit like a creepy old ghost town. No action happening except the occasional tumbleweed blowing through town. Cue up the spine tingling music and the sense of dread and suddenly you're reminded of what it's like when you're blog isn't generating any action.
There are a ton of posts about the necessity of creating interactions – with other bloggers on their blogs – and then also with your commenters on your own blog. There are equally as many talking about how to get visitors from social media.
But how can you encourage those visitors to stop and leave a comment??
Below are 5 simple solutions to encourage your visitors to leave comments and tell the tumbleweeds adiós!
1. Use Post Excerpts On Your Homepage
Whether your theme already includes this or you grab the handy Homepage Excerpts plugin for WordPress to easily add the functionality, excerpts prevent visitors from doing the old cut and run! Now they will open the full post to read more and then find less hassle involved in leaving a comment. No more asking them to kick a tumbleweed (click a link) just to do you a favor (leave a comment)!
2. Enable Comment Threading
Comments are considered "threaded" when replies "nest" under the comment they belong to. It improves readability, flow and makes the comment system more inviting. WordPress used to require clunky full comment system replacements to add this but now premium themes can either enable the built in feature under Settings -> Discussion or older themes can grab the WP Comment Thread plugin. This allows you and your readers to easily dialog and get to know each other.
3. Enable Subscribe To Comments
If you can keep a reader coming back, you increase their time on site and odds of leaving a comment. Make it super simple for your visitors to subscribe to all the replies of a particular post with the simple to use Subscribe To Comment plugin for WordPress.
4. Thank First Time Commentators
If you've ever been a new commenter on a blog you know how unnerving it can be to leave a comment and see it go to moderation – or worst – say submitted but appear to vanish. Now there is a plugin called Comment Redirect that can easily identify a person that has not commented before and redirect them to a page of your choice. Set this page up to welcome them, thank them, encourage them to opt in and suggest other things they might enjoy. A win/win for you both!
5. Share the Link Juice
This "dream stack" will prove to visitors that you truly DO care about them and want to thank them for participating and commenting. Commentluv, Keywordluv, DoFollow & Top Commentators Widget all fit together to remove the no follow attribute, improve the back link quality and give more and better backlinks. There is no better way to say "thanks for helping me grow my blog" than saying "here's something to help you grow yours". These four greatly benefit the SEO work your visitors are likely doing and can help build a lot of traffic. The community surrounding Commentluv is a open but tight-knit family that actively supports each other and can be a great source of free traffic and relationships.
Ghost Town or Thriving Metropolis?
This powerful combination of tactics and plugins will help you increase the number of your visitors that not only stop by but settle in and help you turn your ghost town into a home town!
Combining off and on-site relationship building with these tactics help us keep the "social" in social media and prove ourselves worthy of being the major of a thriving metropolis.
Now it's your turn! What is you're favorite tactics to increase comment rates? Which plugins do you love to love – or love to hate? What has worked successfully for you on your blog? Are there certain plugins that you find reduce your likelihood to comment?
If you found this post interesting or useful I hope you'll syndicate it, bookmark it and share it with all your friends and fans! Share your thoughts below in the comment field, I cant wait to compare notes!
This post is part of our amazing
Blogging Contest
, plz add a comment and tweet it to support the author.