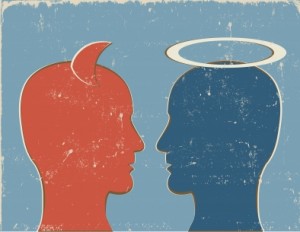 Becoming a blogger is no easy feat. Many will attempt this uphill climb but not everyone will make it. In order to succeed you will need  to avoid dangerous pitfalls, have a strong character, and a healthy helping of luck.  Avoid the sins below while sticking to the virtues and make your blogging journey a positive experience.
The Sins
Pride
Pride will rob you of valuable knowledge and leave you ignorant. In blogging, pride occurs when we ignore the advice of others because we believe we know best. There is a fine line between pride and determination and it takes a lot of finess to walk it. On one hand, it is important to stay determined in spite of criticism; on the other hand one cannot be blind to it either. The difference between pride and determination lies in how you interpret others' opinions. The proud person is apprehensive towards criticism and outside opinion. As a result they hear the things that are pleasant and dismiss information that is contradictory to their beliefs. The determined person accepts different points of views and although criticism is never pleasant, they understand that it is a positive experience giving them the opportunity to improve.
Laziness
As a blogger you most likely won't have an authority figure to report to. This is an incredibly attractive proposition and is what makes managing your own blog so appealing. The downside to this is that without this pressure it becomes really easy to lose focus. Since your office is at home, it becomes tempting to wake up a bit later or watch an episode of (insert temptation here). Working on the internet also does not make things any easier as there are countless distractions out there waiting for you. Often times we may vail our laziness with excuses like "I need that extra thirty minutes of rest to be more productive later" or  "watching the Puppy Can't Get Up video on YouTube was essential to my research". If we act on our laziness enough times, it becomes part of who we are and is that much harder to cut out. Laziness is seductive: it lures you in with the promise of instant gratification. What laziness won't tell you is that the high is short-lived and what follows is a state of despair and disappointment.
Envy
Having envy in your heart is a sure path to failure. Being envious of other blogs that have a nicer looking theme or more commenters suggests that you are not in the right frame of mind to see these people as valuable resources for learning and development. Others' success should not be seen as a sign of our inability or lack of knowledge and should not be a target for resentment. Instead, you can choose to view these examples as possibilities of what you can achieve or as potential allies to guide you on your path to success.
The Virtues
Determination
Writing can be difficult because it often asks you to reduce the infinite world, full of complex concepts, ideas and points of view, into one concrete, consistent, and coherent output. No easy feat. It can be down right agonizing to stare at the blinking cursor as one cr*ppy idea replaces another. Many times you might even hear the voice inside your head telling you to give up, that your efforts are futile. At these moments it takes a lot of resolve and strength to trust in your abilities and find belief in yourself because no one will do it for you. People may give you encouragement or they may criticize you but is important to not get attached to the subjectivity of these comments. A determined blogger knows that they can change and adapt to the circumstances and that accomplishment of their goals is a matter of when rather than if.
Patience
Determination is essential to blogging success, but without patience it's just stubbornness. With the evolution of our communication tools we have become accustomed to instant access to information. When it takes more than 5 seconds for a page to load, we begin to grumble about how miserable this makes us feel. Our obsession with instant results could really discourage us when we don't observe instant success for our blogging endeavors. When we are impatient we act impatiently. When we are patient we act patiently. What do you believe will get you better results?
I for one have been a victim to my impatience. Being obsessed with getting more traffic to my site,  I wasted countless moments obsessing over my numbers on Google's Web Analytics or WooRank. And when I wouldn't receive thousands of hits to my site the next day, even after writing what I thought was a pulitzer-prize worthy article on ideas for men's homes, I would get discouraged and think about giving up. It may seem difficult to be patient at first, but after you acquire the ability you won't be able to imagine how you survived before.
Inquisitiveness
Inquisitiveness will be important if you want to keep growing as an individual and as a blogger. With so much information out there you cannot afford to remain a hermit blogger. Reading, sharing, communicating, these are the things that are going to make the experience of blogging rewarding. A blogger needs to want to learn how their world works. they need to try things. To fail, and then to try again. This process cannot be achieved by sticking to our comfort zone.
What have you observed to be true in your experience?
Image Courtesy: Self Made Scholar