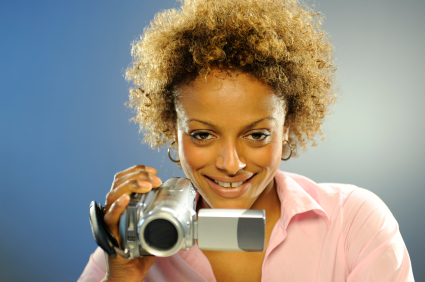 I enjoy recording video podcast tutorials and with each screencast I create, I try to share solutions to common blogging problems with my fellow bloggers. I'm constantly on the prowl for other video blogs and when I see a YouTube icon on a site, I visit the channel and view their uploads, subscribe, or give them a thumbs up. Along the way, I've seen some really fantastic videos yet on the other hand, many of them leave "something to be desired". I'm much too polite to leave a glaring negative comment for the world to see (and I do believe in Karma). Therefore I've compiled a list of what I think are the worst offenses and the top 5 things bloggers should refrain from doing with their videos.
Video Blogging Mistakes To Avoid
Blogging While Driving – I don't understand something about blogging while driving, what is the message that you're trying to get across to me – "I'm such a good blogger I can even blog while I drive", or is it "I'm super-duper busy so you should feel honored I took the time to record a video while I'm en-route to something WAY more important".  Please! I beg of you, driving video bloggers, take the Oprah Pledge or something!
You Start Off Apologizing – You know the audio quality sucks and the video is too dark and the camera is out of focus, so why are you uploading it? There's no need to upload every poor quality video to YouTube just to get your post published that day. I know you think Google is hungry for some new content, but as one of your faithful readers, I promise you, I can wait until you make a nice clear recording, so that I can actually watch it without being annoyed. So don't apologize, just re-record it.
You're Not Editing - You made a big boo-boo and forgot to hit the pause button so you end up with 15 seconds of "empty space" at the end of your video. I guess you're thinking "Hey, well at least I know they watched all the way to the end
". Nope, we were actually thinking "Is it really over?" or better yet "What's that about?"
You're Smoking a Cigarette - You can't be serious. Unless you're trying to be really, really, funny – step-away-from-the-ashtray until you're done recording. We can hear you puff, inhale and exhale and we have no doubt, that you must be smoking "something"
Your Audio Is Missing – What, are you kidding me?? You DO realize that you can add stock background music to your video for FREE don't you? I understand that you think your message is so powerful that audio isn't necessary. What YOU don't understand is that 95% of us are checking to make sure we're not missing anything, and we are WAY too distracted to watch the video! Just imagine this scenario, here's what I do:
Check that my speakers are connected properly
Make sure the volume on my system is turned up
Verify the audio slider on YouTube is all the way up

Glance back at your video in disbelief, and at that moment I begin to realize…You just lost me
Take Your Videos to the Next Level
Even with the positive feedback I've received from my tutorials, by all means I recognize there's plenty of room for improvement. That's why I stay on the prowl, seeking advice and feedback in order to hone my craft. StayOnSearch and VitaminCM are two blogs I found recently that have some awesome resources and tutorials, but honestly, I'd love to hear what you have to say about video blogging.
Let me know if you've had some good (or bad) experiences when visiting video blogs.