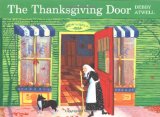 The Thanksgiving Door
written by Debby Atwell
illustrated by Debby Atwell
published by Houghton Mifflin Company, ©2003
Book Details
audience: Children's Book, ages 3 to 10
format: Children's Picture Book
topics: Thanksgiving, immigrants, family, tradition, celebrations, cultural heritage, blended family
Story Summary – Thanksgiving Story Arc
When Ann burns their Thanksgiving dinner, her husband Ed suggests they go out to eat for Thanksgiving. They enter a restaurant with an open door, and become the invited guests of the immigrant family celebrating their First Thanksgiving in America. This is a holiday book with a story that celebrates the true meaning of the season.
What Makes it Old School (and Timeless) for Thanksgiving
The book celebrates family, sharing, and giving to others–the true meaning of Thanksgiving. We all came – or at least our relatives came – from somewhere else. This book will remind you of your immigrant relatives and the special times you shared with them. It reminds me of my great grandmother and the Polish traditions blended into our Thanksgiving celebrations. She is gone now, but I am thankful for the times we had.
This is a picture book that all ages can appreciate, share, and enjoy for Thanksgiving  … or any time you want to celebrate family.
Guest Author Notes
This post is written by Terry Doherty, Founder and Executive Director of The Reading Tub, a nonprofit for family literacy. One of the goals of the  Reading Tub is to offer reviews of children's books that parents will want to share with their kids. Year in and year out she and her volunteers read hundreds of children's books. Many come from publishers, but plenty come from the public or school library, as well as our own shelves.
The Backlist lets us share books that have been around for at least a year, and you may not have heard about. Most importantly, these are the books you'll never tire of reading with your kids and grandkids. This is a children's book you'd buy for yourself and/or other people.
To write your own guest post on Comluv, visit the 'write for us' page to see how. It can be to the subject of your own blog or even a review of a children's book about Thanksgiving like this post.