The traffic to the API on this server has increased by 60% this year and is growing at an exceptional (nearly exponential) rate. Each new blog means at least 5 more requests to deal with every day. With thousands of new members each month, it's starting to get pretty hard for my entry level 2gb server to deal with the load.
I have had to put in some cacheing of the last blog post requests. Right now, members have their return list cached for 1 hour and non-members are cached for 24 hours. This means if you make a new post on your site, it wont show up in your return list until the cache has expired.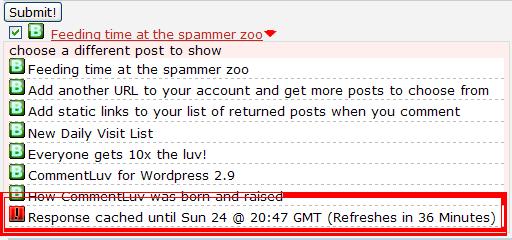 If you click the little arrow next to the post that is shown from your site while you're commenting, you will be able to see if the return list is cached and for how long.
I hope this will reduce the amount of work my server has to do, if it starts misbehaving when you comment on commentluv enabled sites then please let me know!