The guys at JSKIT have launched a major update to their commenting system, it's now called "Echo" and it looks sooo much better!

Head honcho of community and product strategy Chris Saad (site) sent me an email a few days before launch offering to let me have a first peek at the system so i can modify CommentLuv to work with it so the last two days have been playing with code to get some echoluv.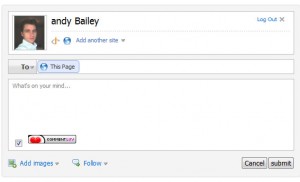 As you can see, there is the luv to be had on Echo! If you're logged in (via openid or other) then you have to put your site URL in the section where it says "add another site". CommentLuv will take the last link in the list as the URL it uses to fetch the posts.
A logged out user will see this..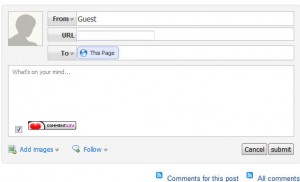 Some things to note:
Put the JSKIT widget as high up the template as you can and put the CommentLuv one as low down as you can, probably on the bottom of the right sidebar so JSKIT as a headstart with fetching the comments and adding the comment form.
Don't use the WYSIWYG editor for your comments, it'll stop CommentLuv from working on the form (who uses fancy formatting in a blog comment anyway?)
You need the JSKIT commenting system on your blogger blog if you want to use CommentLuv